New York's hottest—and hardest—workout taps into adults' nostalgia for team sports.
By Jason Kelly
It's 20 minutes into my lunch break, and I'm already drenched in sweat. I'm at Tone House, a three-year-old fitness studio, and my class of 16 people is racing to see who has the fastest 40-yard "gallop"—think running but in a downward-facing-dog position.
Tone House is the brainchild of Alonzo Wilson, a former college football player who developed his workout philosophy training NBA stars and the occasional Sports Illustrated swimsuit model. It has two locations, both in New York: One is tucked into a formerly nondescript block near Madison Square Park, and the other, which opened in March, is on the Upper East Side. An hourlong session runs $40; the 50-class MVP pass, a yearlong membership that gives you priority booking, goes for $2,000.
Designed to appeal to former athletes yearning to relive their high school glory days, the studio takes its cues from team sports. "Leave your ego at the door," reads the motto on the entrance. "It's game time." After checking in, I head downstairs to the locker room, where ESPN is playing on a giant screen in the sort of lounge area that's become common in the big leagues. My "teammates" and I gather there to get fired up. There's even a countdown clock to the time we'll all be summoned upstairs to huddle, introduce ourselves, and meet the "coaches" on what they call "the turf," artificial grass painted black, with a giant Tone House logo in the center.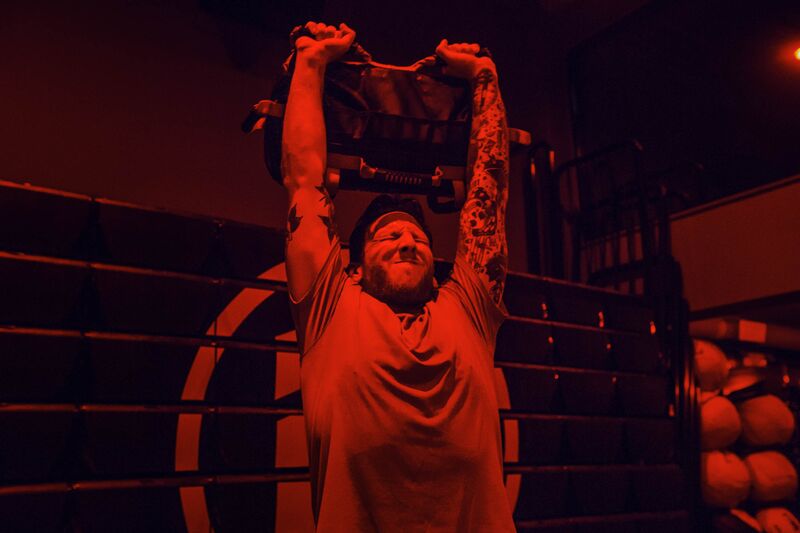 Bleachers line both sides like a football field, and workout staples such as cones and rope ladders are scattered about. The studio is big and dark, and the theme song from Halloween plays over the speakers, layering on the levels of dread. "This is my second time here, which is actually worse," says one of my teammates. "Because now I know what I'm getting into."
The workout itself is not that radical. It's based on high-­intensity interval training, which, unlike distance running or cycling, demands short bursts of activity, usually for less than a minute. My class is mostly leg work—sprints, jumps, squats, and burpees, with short breaks in between. We gulp some air and swallow some water, and our heart rate drops a bit. Then we spike it again with the next exercise. HIIT workouts are very much in vogue, whether high-end gyms such as Equinox or specialty boutiques like the Fhitting Room, where a one-hour session costs about the same as at Tone House.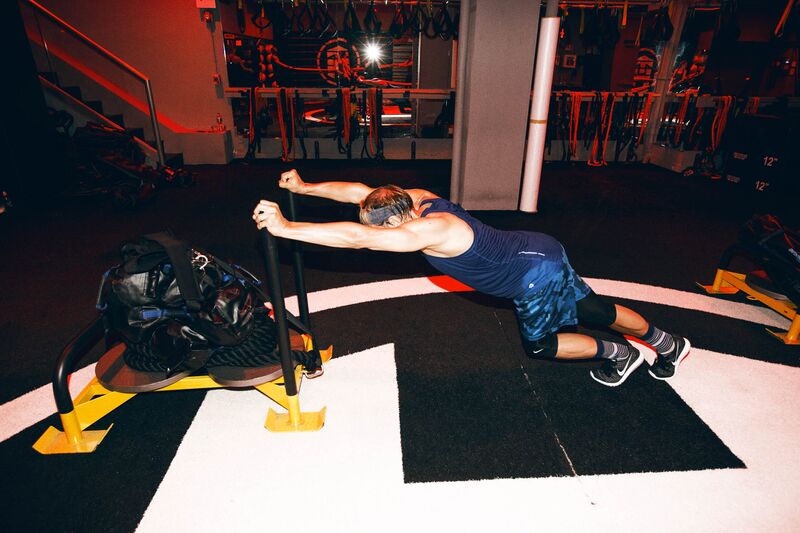 Think of Tone House as a supremely devoted CrossFit group: If you bail on the next workout, you're not just letting yourself down, you're letting the team down. Everything is a race or a relay. We line up, one after the other, as if in some demented army boot camp, and run through ladders laid on the turf, then jump over obstacles and drop into a pushup, all while trying to keep up with the person in front and not be overtaken by the person behind. Coaches shout positive reinforcement throughout and goad us to do the same for one another, though we usually manage only grunts and weak fist bumps.
Before heading back to our jobs in Midtown Manhattan skyscrapers, we mingle briefly in the co-ed lounge, enjoying that distinct postworkout afterglow. If SoulCycle is pedaling with candles and intentions, Tone House is gasping with high-fives and attaboys. The hardest workout in the city might also be the friendliest
.